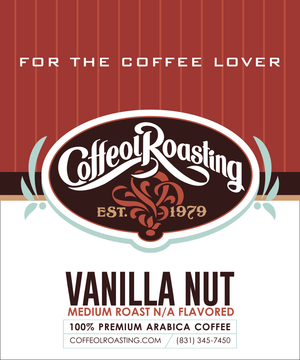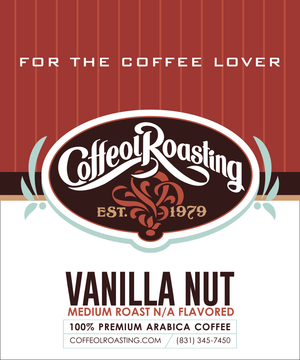 On Sale
Vanilla Nut
Experience the perfect combination of creamy vanilla and nutty goodness with our Vanilla Nut coffee. Each bag is filled by hand and sealed to ensure the freshest and most flavorful coffee possible. We use only the highest quality 100% Premium Arabica beans to create a medium roast coffee that is smooth, rich, and never bitter.
Our Vanilla Nut coffee is naturally and artificially flavored, giving you a perfect balance of sweet and savory. This delicious blend is the perfect addition to your morning routine or a great way to unwind after a long day. With 10 oz (284g) of coffee in each bag, you can enjoy this aromatic and flavorful blend for days to come.
We take pride in our handcrafted coffee, and our Vanilla Nut blend is no exception. We combine the finest beans with the perfect amount of natural and artificial flavoring to create a truly exceptional coffee experience. Perfect for sharing with friends and family or enjoying on your own, our Vanilla Nut coffee is sure to become a favorite in your collection.
Order now and taste the difference that comes from using only the best ingredients and the finest brewing techniques. Savor the creamy vanilla and nutty goodness in every cup and experience a coffee that is truly exceptional. Treat yourself to our Vanilla Nut coffee today and enjoy the ultimate coffee experience.