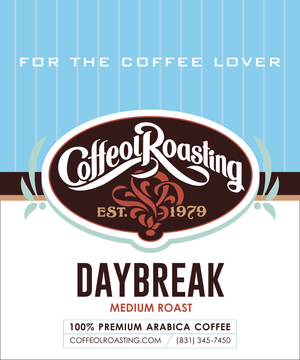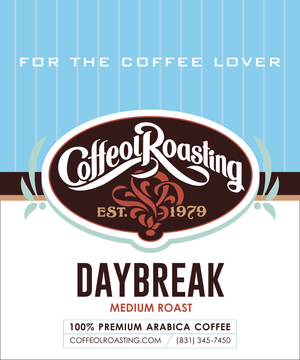 On Sale
Daybreak
Introducing our Daybreak coffee blend, featuring 70% Medium Roast and 30% Dark Roast coffee. This premium blend is crafted using 100% Arabica beans sourced from the best coffee-growing regions, creating a perfectly balanced flavor profile that is both smooth and bold.
Our Daybreak coffee blend is made using only the highest quality Arabica beans, which are carefully roasted to perfection to bring out the unique flavor notes of each bean. This results in a delicious cup of coffee that is rich in flavor and aroma, making it perfect for coffee lovers who enjoy a bold and robust cup of coffee.
Each bag of our Daybreak coffee blend contains 10 oz (284g) of premium coffee beans, giving you plenty of coffee to enjoy throughout the week.
Order now and experience the delicious taste of our Daybreak coffee blend. With its unique blend of Medium and Dark Roasts and premium Arabica beans, you're sure to fall in love with this coffee blend just like our other happy customers.