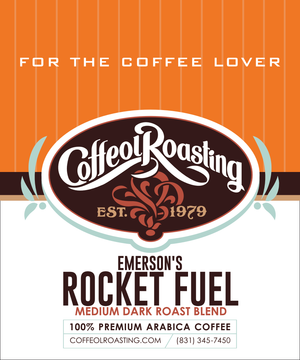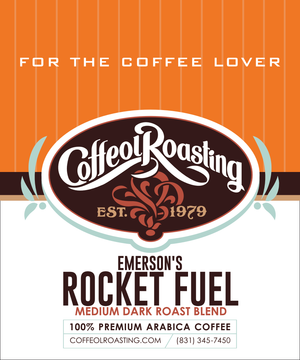 On Sale
Emerson's Rocket Fuel
Start your day off right with a cup of Emerson's Rocket Fuel, a unique blend of 50% Dark Roast and 50% Medium Roast coffee. This premium blend features 100% Arabica beans sourced from Brazil, Colombia, Sumatra, Mexico and Guatemala, delivering a smooth and flavorful cup of coffee that's sure to satisfy your coffee cravings.
Our coffee beans are carefully roasted to perfection, resulting in a well-rounded and complex flavor profile that is both bold and nuanced. Whether you enjoy your coffee black or with cream and sugar, Emerson's Rocket Fuel is sure to impress with its rich and delicious flavor.
Each bag of Emerson's Rocket Fuel contains 10 oz (284g) of coffee, allowing you to enjoy multiple cups of your favorite coffee. Experience the rich flavor of Emerson's Rocket Fuel today and indulge in the perfect blend of Dark and Medium Roast coffee. Order now and discover why our customers love the smooth flavor of our premium coffee blend.