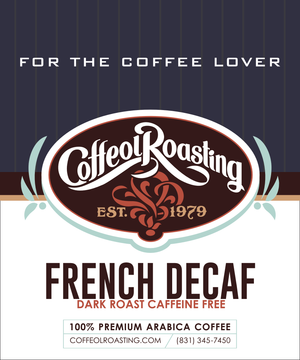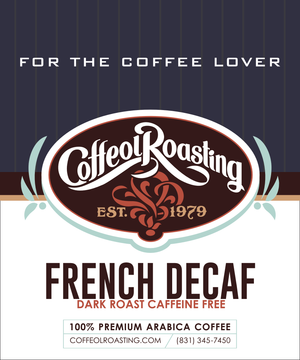 On Sale
French Decaf
Introducing our premium French Decaf coffee, made with the highest quality 100% Arabica beans and expertly roasted to a rich and bold dark roast. Each bag of our French Decaf coffee is carefully filled by hand and sealed to ensure maximum freshness and flavor.
We use a chemical process to remove the caffeine from our French Decaf coffee, ensuring that the rich, bold flavor remains intact. This process results in a delicious decaf coffee that retains all of the flavor and aroma of our regular coffee, without the jitters or sleepless nights that come with caffeine.
Our French Decaf coffee comes in a convenient 10 oz (284g) bag, perfect for brewing at home or on the go. Whether you're a coffee connoisseur or simply looking for a delicious decaf option, our French Decaf coffee is the perfect choice.
Experience the rich, bold flavor of our French Decaf coffee today and discover why it's quickly becoming a customer favorite. Order now and enjoy the convenience of having premium decaf coffee delivered directly to your doorstep.