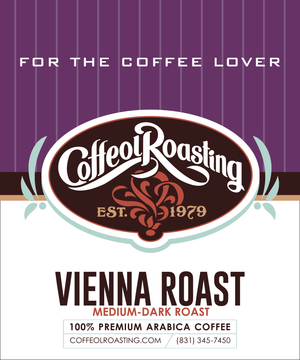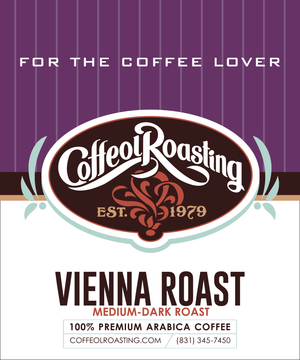 On Sale
Vienna Roast
Discover the rich and bold taste of our Vienna Roast coffee. Each bag is filled by hand and sealed to ensure the freshest and most flavorful coffee possible. Our coffee is made using only 100% Premium Arabica beans, carefully selected and roasted to perfection to create a medium-dark roast that is smooth, full-bodied, and never bitter.
Also known as Full-City Roast or After Dinner Roast, our Vienna Roast coffee is perfect for those who enjoy a medium-dark coffee with a rich and full flavor profile. This bold coffee is perfect for a morning pick-me-up or an afternoon treat. With 10 oz (284g) of coffee in each bag, you can enjoy this aromatic and flavorful blend for days to come.
We take pride in our handcrafted coffee, and our Vienna Roast blend is no exception. Our beans are roasted to perfection to achieve a full-bodied flavor with a sweet and slightly smoky finish. This delicious blend is perfect for sharing with friends and family or enjoying on your own.
Order now and taste the difference that comes from using only the best ingredients and the finest brewing techniques. Experience the rich and bold taste of our Vienna Roast coffee today and savor the ultimate coffee experience.